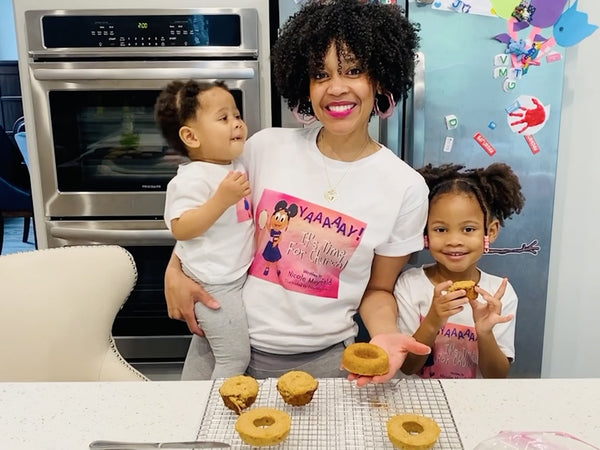 Books & Baking Series - Donuts and Yaaaaay It's Time For Church!
Back in May we hosted our very first Books and Baking event and it turned out to be a yummy messy good time lol. Some of our donuts came out looking like muffins due to overfilling the pan but that didn't bother the kids one bit lol.
A little back story on how this even came about. We took our girls to the pumpkin patch where they tried the apple cider donuts and they absolutely loved them (we try not to give them too much sweet stuff because I'm THAT mom lol) so it was definitely a treat!
My oldest Sophia, kept asking could we please make doughnuts after tasting the pumpkin patch donuts. I kept putting it off because honestly I just kept forgetting to get a doughnut pan lol. They both love to be in the kitchen cooking with me, well until something else gets their attention and they run off saying "Ok mommy you got this" lol
So I finally purchased a donut pan and one random Saturday evening in December we decided to go live and make donuts! Sophia was beyond excited to do two of her favorite things which was to cook and entertain people on Instagram live. My youngest Isabella joined in for a little bit but was all over the place and wanted to stir aka make a mess lol so daddy entertained her while Soph and I did our thang lol.
We decided to make the donuts vegan...because why not lol. Are we vegan? At the moment no lol but we make vegan dishes from time to time. We had quite a few people come on our random Instagram live! They got a kick out of watching us bake donuts and talk about which ingredients to sub out to make the donuts vegan. No eggs were cracked but a lot of jokes were... ba dum chhh (sound of me hitting a drum for that cheesy joke LOL). Head on over to our Instagram page to check out the replay! Anyway, after that night the girls wanted to do everything live! We went on to do vegan pancakes and cupcakes and God gave me the idea to do an event called Books and Baking! 
We all want our children to read and who doesn't love filling your tummy with something yummy while doing so! Thus, Books and Baking was born! Even though we usually went live on Instagram and Facebook, we decided to do this event on Zoom so we could see everyone and they could participate and bake with us! After we were finished tasting the delicious donuts and reading our book, Sophia decided she wanted to do a contest to bless someone with a free book (how she gona give MY books away LOL) but I went with it because it was cute and sweet. So we asked all the participants to share and tag us with pictures of their donuts on Instagram or Facebook and Soph picked the best-looking doughnut. The winner won a free book!
The live Books and Baking series will absolutely continue so be on the lookout for upcoming dates! In the meantime, I have attached the recipe we used below and how we made them vegan! If you enjoyed this blog and/or tried the recipe, leave us a comment and let us know what you think!!
---
Shirts: Special shout out to Pressed Expressions for our amazing shirts! Check them out for any expressions you need pressed!
Earrings: Chovonne Accessorieshas some of the amazing accessories!! Go check her out ASAP!
Recipe link: https://www.littlesweetbaker.com/old-fashioned-donuts/
Vegan Ingredient substitutions:
3/4 cup buttermilk- Unsweetened Ripple pea milk with 1 ½ tsp of apple cider vinegar (let sit for a minute)
2 large eggs - 1 whole ripe banana* or ¼ cup of applesauce** for each egg used
*Note that you will taste the banana a bit if you go that route.
**Note the donuts may be a bit denser if you use the apple sauce.
Talk soon!!!